Best skills in Barents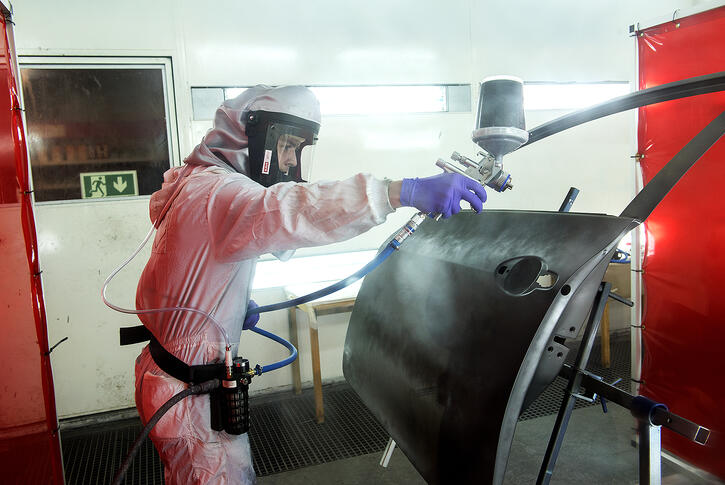 The best trade students in the Barents Region showed their excellent arctic skills in competitions in Kirkenes recently. Next year the students will gather for an even bigger event when Murmansk is host for Arctic Skills 2017.­­
Top trade students from Finnmark, Murmansk and Lapland met in Kirkenes last week. After competing for up to six hours in their different trades, the award ceremony was held in front of several hundred cheering fellow students.
Pressure
All participants were selected from local competitions at their schools and then their region, before they could test their skills against students from their neighbouring countries. Trond Hansen at Kirkenes Upper Secondary School has initiated Arctic Skills, and have been preparing the competitions together with project leader Robert Flatli.
As the competitions ended, none of the competitors knew the decision of the judges. All competitions have a wide set of skills which are evaluated on each task. It was not until their names was called out first, second or third at the awards ceremony that the contestants knew how they performed.  
- The pressure on performing was higher this time than in the local competitions, because we competed against people from Finland and Russia. We have heard so much about the quality of the Russian health care students, so I never thought I could win, said Maria Malinina to newspaper Finnmarken.
However, Malinina won the competitions for health care workers, and beat Veikko Lappalainen from Finland and Jana Valentinovna Perepelitsa from Russia.
Murmansk 2017
The organizers from Kirkenes, Trond Hansen and Robert Flatli, were very satisfied with the competitions in Kirkenes. All events went well, and next year there will be competitors in all trades. This year some trades missed participants from the other countries because of different rules for the competitions in each country. After meetings in Kirkenes all discussions are ended and there will be full participation in all 11 trades in Murmansk 2017.
- We are also working on a bigger project now to also include Northern-Sweden in the Arctic Skills. They are interested and I hope they will join the competitions soon so that we can have participants from all Barents Countries in Arctic Skills, says Trond Hansen.­­
Results Arctic Skills 2016: 
| | |
| --- | --- |
| Plumber | 1. Andreas Konradsen (NO) |
|   | 2. Rami Hyry (FI) |
|   | 3.Jevgenij Aleksejevitsj Surin (RU) |
| Framer/Carpenter | 1. Brian Larsen (NO) |
|   | 2. Krister Bårdsen (NO) |
|   | 3. Eetu Alalahti (FI) |
| Auto mechanic | 1. Kenneth Varsi (NO) |
|   | 2. Juuso Pallari (FI) |
|   | 3. Maksim Konstantinovitsj Rassadin (RU) |
| Car painter | 1. Linn S. Sotkajærvi (NO) |
|   | 2. Mats Dervoll (NO) |
|   | 3. Jo-Endre Brudevoll (NO) |
| Health care worker | 1. Maria Malinina (NO) |
|   | 2. Veikko Lappalainen (FI) |
|   | 3. Jana Valentinovna Perepelitsa (RU) |
| Electrician | 1. Tuomas Laine (FI) |
|   | 2. Tobias Moseid (NO) |
|   | 3. Aleksej Andrejevitsj Kiseljev (RU) |
| Welding | 1. Igor Aleksandrovitsj Agejev (RU) |
|   | 2. Nikita Felkhle (NO) |
|   | 3. Martin Halvorsen (NO) |
| Hairdresser | 1. Tiina Lauri (FI) |
|   | 2. Camilla Must (NO) |
|   | 3. Anastasia Igorjevna Romilina (RU) |
| Doudji | 1. Rauna Vieltojärvi (FI) |
|   | 2. Ánne Inger Birkely (NO) |
| Chef | 1. Tiia Junttila (FI) |
|   | 2. Sigve Pedersen (NO) |
|   | 3. Anton Alekseevich Kolesnikov (RU) |
| Heavy equipment operator | 1. Oddne Staff Myhre (NO) |
|   | 2. Vebjørn Aleksander Stormo (NO) |
|   | 3. Steffen Espelid Paulsen (NO) |
All photos: Jonas Karlsbakk