Canadiske gjesteskribenter til BarentsObserver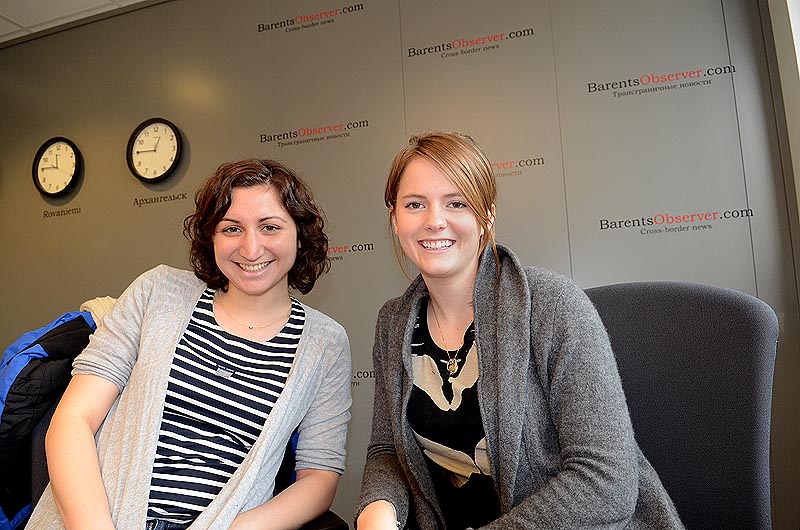 For andre året har to canadiske journaliststudenter fire ukers praksisperiode ved BarentsObserver.com. I år er det Samia Madwar og Ora Morison som har fått journalitsstipendet fra Norges ambassade i Ottawa.
I et samarbeid med Norges ambassade til Canada, tar Barentssekreteriatet hvert år imot to journaliststudenter fra Canada som har en tre-fire ukers praksisperiode som journalister ved BarentsObserver.com. Det er studenter ved Carleton University i Ottawa som får anledning til å søke på stipendet fra Ambassaden.
Samia Madwar og Ora Morison skal i løpet av de fire neste ukene styrke BarentsObserver sin redaksjon i Kirkenes, samtidig som de skal lære mer om både Nordområdene og Arktisk sett fra et norsk ståsted. Begge har også valgt seg fagfelter som de ønsker å fokusere på under oppholdet. Ora ønsker å se på urfolksproblematikk og hva som skiller urfolkspolitikk i Canada og Norge. I tillegg ønsker hun å se på internettkommunikasjon i utkantstrøk i Norge og tilgjengelighet i forhold til hvordan det er i hjemlandet.
Samia har planlagt å se på sikkerhetsarbeidet i petroleumsbransjen i Norge, med utgangspunkt i petroleumsvirksomhet i arktiske strøk. Et annet tema hun interesserer seg for er parasitter som truer dyrelivet i arktiske strøk og hvordan disse sprer seg.
De legger ut sine inntrykk fra Norge på hver sin blog under oppholdet.